Blue Suisse's Trading Model guarantees transparency and fairness, enabling you to trade with confidence.
As soon as we receive your order, our pool of liquidity providers consisting of major banks and brokers compete to offer us their best prices for your order execution.
Our uniquely advanced IT infrastructure and price aggregator system allows us to instantly and continuously receive quotes from all liquidity providers, we analyse them in milliseconds and identify the best price available to fill your order. The prices are 100% transparent and can be disclosed to you at any time.
Transparent and fixed markups
We add our mini-markup (our income) and execute your order at the best market price in a matter of milliseconds with no dealer involvement. Depending on your account type, you will have a certain fixed mark-up for each instrument and (currency) pair.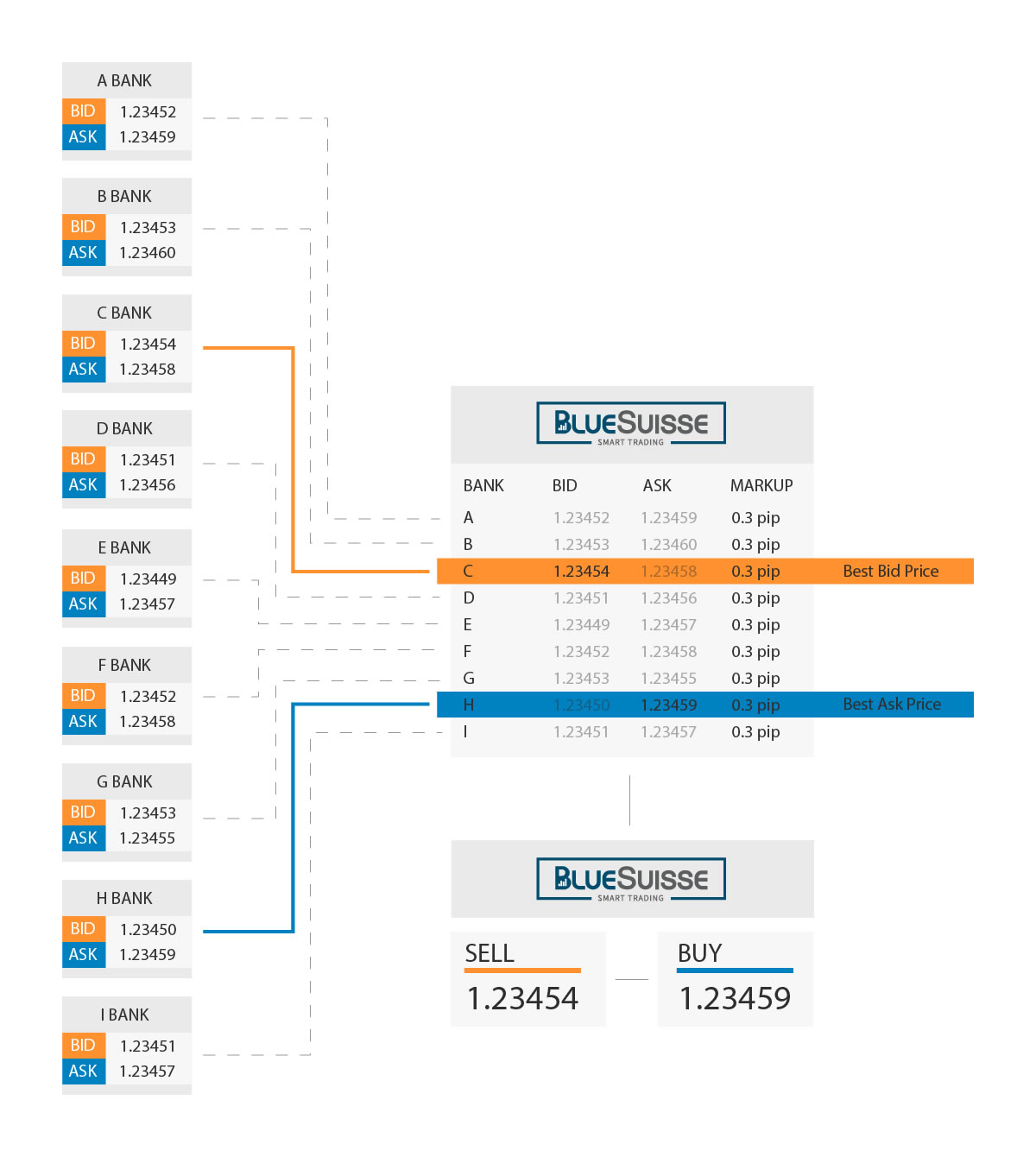 Start trading in four simple step
1. Register
Open your live trading account
2. Verify
Upload your documents to verify your account
3. Fund
Deposit funds directly into your account
4. Trade
Start trading and choose from 130+ instruments
Demo account
The Blue Suisse Trading Account with virtual funds in a risk-free environment
Demo account
Live account
The Blue Suisse Trading Account in our transparent live model environment
Open an Account
CFDs are complex financial products traded on margin. Trading CFDs is risky and may not be suitable for all investors. Ensure you understand the risks involved as you may lose all your invested capital. Past performance of CFDs is not a reliable indicator of future results. Most CFDs have no set maturity date and a CFD position matures on the date an open position is closed. Please read our Important Risk Disclosure.

Blue Suisse Limited is authorised and regulated by the MFSA (Malta Financial Service Authority) holding Category 2 Investment Services license nunber IS/59928. For a copy of the license please click here.

© 2013 - 2020 Blue Suisse All rights reserved.